MANHEIM, Pennsylvania – Feb 6, 2018 – IDenticard® Access Control today announced the release of version 3.1 of its PremiSys™ Access Control System. The key feature in this groundbreaking update is the release of PremiSys Resident Manager™, an innovative mobile app that allows the user to manage resident access through a mobile device.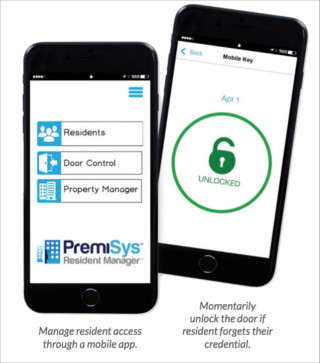 PremiSys Resident Manager is being launched in conjunction with the BICSI show in Orlando, giving the access control industry an up-close look at this new solution.
PremiSys Resident Manager is a mobile app that provides complete control of Schlage® "no-tour" locks using a mobile device. Resident Manager communicates with the locks via Bluetooth and eliminates the need for a network infrastructure to communicate with the locks. With Resident Manager, property managers can manage resident information, assign access rights, connect and manage property doors and more.
PremiSys Resident Manager works with a number of different locks from Schlage, including Control Smart Locks, LE Mortise Locks and NDE Locks.
IDenticard Access Control is a leading manufacturer of integrated access control solutions designed to protect employees, visitors, and facilities. A division of Brady Corporation (NYSE:BRC), a $1.23 billion manufacturer of identification products, IDenticard Access Control draws on its 30+ years of experience in security software development to provide innovative products based on its customers' requirements and the needs of the marketplace. With an in-house engineering team, IDenticard Access Control is a leader in developing mobile security solutions that allow users to manage many of their daily security activities from remote locations. In addition to its flexible and innovative products, IDenticard Access Control is committed to providing unparalleled customer support.
Media Contact
Laurie Lefever
laurie_lefever@bradycorp.com