LANCASTER, Pennsylvania — January 22, 2016 — IDenticard, a leading provider of innovative access control and security solutions, today announced PremiSys NDE, a comprehensive new door control solution that works with Schlage® NDE series wireless locks.
PremiSys NDE takes features available through Schlage's ENGAGE™ WiFi technology and enhances them, bringing a wealth of door control features to these powerful, convenient wireless locks.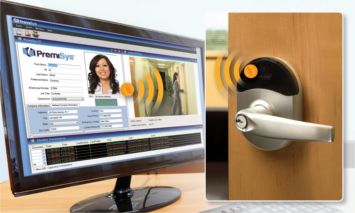 "We are very ​excited to ​integrate with this​ versatile​ technology​ from Allegion​ that makes access control ​more ​affordable​ and accessible​," said Andre Motta, General Manager for IDenticard Access Control. "The PremiSys NDE integration with the Schlage NDE locks enhances the customer's experience by providing ​new features such as advanced credential management, detailed audit reports, and customizable screen layouts."
PremiSys is the first manufacturer to integrate directly with the ENGAGE technology using WiFi. This new integration brings powerful door control features to sites of all kinds.
"The sizeable reduction in cost comes from the ability to wirelessly manage doors utilizing pre-existing WiFi infrastructure within a building," said Brad Aikin, Allegion U.S.'s Business Leader of Electronics. "With this solution, system managers can send and receive updates directly with locks wirelessly, providing users with convenience and dependable security at a reduced cost to install and manage."
Unlike traditional door control systems, PremiSys NDE requires no additional hardware: PremiSys NDE communicates with the Schlage NDE locks directly via WiFi.
PremiSys NDE gives users maximum control over their Schlage NDE series wireless locks. In PremiSys, users are able to control an unlimited number of locks, schedule data imports, create backups, manage cardholder records, create access groups, define holiday schedules and more.
Video management integration, including with leading providers like Geutebrück and Exacq, is brought to Schlage NDE series wireless locks with PremiSys NDE. PremiSys NDE also features a full credential management system, allowing the user to design and print ID cards and to then manage cardholder rights across the entire access system and a mobile app that allows for ID creation.
PremiSys NDE also gives the user comprehensive reporting features, including the ability to save and load frequently used report parameters. PremiSys NDE also is able to provide a low battery report that can be emailed on-schedule to the appropriate personnel.
IDenticard Access Control is a leading manufacturer of integrated access control solutions designed to protect employees, visitors, and facilities. A division of Brady Corporation (NYSE:BRC), a $1.23 billion manufacturer of identification products, IDenticard Access Control draws on its 30 years of experience in security software development to provide innovative products based on its customers' requirements and the needs of the marketplace. With an in-house engineering team, IDenticard Access Control is a leader in developing mobile security solutions that allow users to manage many of their daily security activities from remote locations. In addition to its flexible and innovative products, IDenticard Access Control is committed to providing unparalleled customer support.
Allegion® is a global pioneer in safety and security, with leading brands like CISA®, Interflex®, LCA®, Schlage® and Von Duprin®. Focusing on security around the door and adjacent areas, Allegion produces a range of solutions for homes, businesses, schools and other institutions. Allegion is a $2-billion company, with products sold in almost 130 countries.
Media Contact
Laurie Lefever
laurie_lefever@bradycorp.com