LAS VEGAS, Nevada — April 6, 2016 — IDenticard Access Control was today named "Partner of the Year" by Allegion at the annual ISC West show in Las Vegas, Nevada
This award comes after IDenticard Access Control and Allegion came together for the launch of PremiSys NDE, an innovative collaboration between IDenticard's PremiSys Access Control software and Allegion's Schlage NDE Series Wireless locks.
Pictured with the award are Derek Ommert (left) of Allegion and Aaron Henderson (right), Security Software Product Manager for IDenticard Access Control.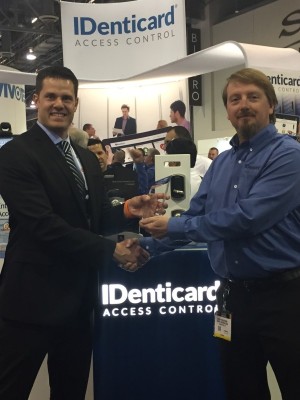 IDenticard is proud to receive this award from Allegion, and looks forward to continuing to work together to provide comprehensive software and hardware access control solutions in the future.
IDenticard Access Control is a leading manufacturer of integrated access control solutions designed to protect employees, visitors, and facilities. A division of Brady Corporation (NYSE:BRC), a $1.23 billion manufacturer of identification products, IDenticard Access Control draws on its 30 years of experience in security software development to provide innovative products based on its customers' requirements and the needs of the marketplace. With an in-house engineering team, IDenticard Access Control is a leader in developing mobile security solutions that allow users to manage many of their daily security activities from remote locations. In addition to its flexible and innovative products, IDenticard Access Control is committed to providing unparalleled customer support.
Media Contact
Laurie Lefever
laurie_lefever@bradycorp.com